Creating Excellence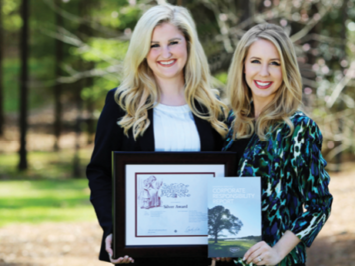 Sanderson Farms Wins Advertising Awards for Annual Report
Sanderson Farms' Corporate Communication Department was recently honored by the American Advertising Federation of Jackson, Mississippi with two advertising awards. The awards were presented to the company at the Mississippi Museum of Art in downtown Jackson. The American Advertising Federation of Jackson is central Mississippi's local chapter, which was founded in 1953. The American Advertising Federation Jackson chapter is one of only two chapters in the state of Mississippi and one of 20 in American Advertising Federation District 7, which includes the states of Alabama, Georgia, Louisiana, Mississippi and Tennessee.
SILVER AWARD
Sanderson Farms was awarded the local federation's Silver ADDY Award within the Annual Report category of competition for the company's publication of the 2015 Corporate Responsibility Report. In collaboration with the Environmental Services and Marketing Departments, the annual report was produced by the company's Corporate Communication Department including Communication Manager, Ashley Rea, and Graphic Designer, Lorin McAlpin Pugh. Each year, Sanderson Farms publishes an annual report that details the company's corporate responsibility and sustainability progress from the following year.
The first internal team to be awarded an ADDY Award on behalf of Sanderson Farms, Rea served as editor and writer for the publication, while Pugh served as graphic designer and photographer. Other contributing photographers for the publication include Peter Mayer, Deon Dickerson, Joynt Photography and John Stockwell.
The American Advertising Awards is the advertising industry's largest and most representative competition, attracting over 40,000 entries every year in local American Advertising Federation Club competitions. Selection of the most creative entry in each category is affected by a scoring process in which a panel of judges evaluates all creative dimensions of each entry. The number of awards given in each category is determined by the judges.
GRAPHIC DESIGNER OF THE YEAR
In addition to winning a Silver ADDY Award for the Corporate Responsibility Report, Sanderson Farms' Graphic Designer, Lorin McAlpin Pugh, was awarded a Best of Show award, 2017 Graphic Designer of the Year, for her design of the Sanderson Farms' 2015 Corporate Responsibility Report. For Best of Show awards, all award-winning work from each category of competition is evaluated to determine Best of Show awards in the categories of Best of Show Overall, Best of Digital, Best of Print, Best of Broadcast, Best of Public Service, Graphic Designer of the Year, Art Director of the Year, Copywriter of the Year, Mosaic Award, People's Choice Award and Judges' Choice Award.
As one of Sanderson Farms' in-house Graphic Designers, Pugh serves as Graphic Arts Editor and Photographer for the Sanderson Farms Newsletter. Aside from her duties as an editor, she is responsible for designing employee communication materials intended to inform, engage and increase the effectiveness of management and employees.
A native of Magee, Mississippi, Pugh began her career with Sanderson Farms in 2014 as a Beginning Trainee. Prior to joining Sanderson Farms, she worked as a freelance graphic designer and photographer for two years. Pugh is a magna cum laude graduate of Mississippi College, where she earned a Bachelor of Arts degree in Graphic Design with an emphasis in Photography.