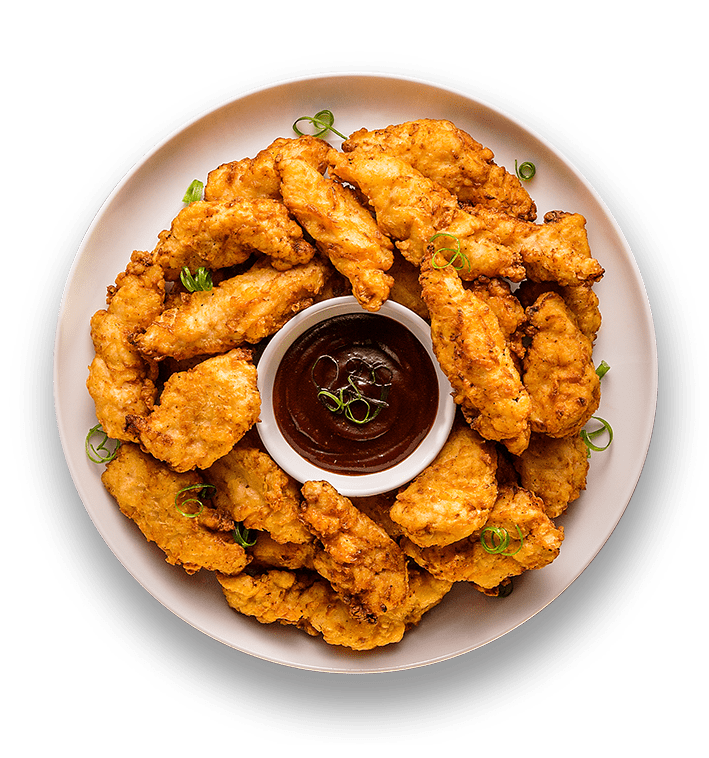 Buttermilk Chicken Tenders
Classic southern chicken tenders are always better when made at home. This recipe is a great use of everyday ingredients and is simple to make.
Ingredients
14 Sanderson Farms® Chicken Tenders, cut in half diagonally
1 cup buttermilk
1 teaspoon seasoning salt
3 cups flour
2 tablespoons seasoning salt
1 teaspoon black pepper
4 cups vegetable oil
Directions
Mix the buttermilk and 1 teaspoon seasoning salt in a bowl.
Place chicken and buttermilk in a sealable plastic bag and toss tenders to coat.
Refrigerate for at least 20 minutes or up to 24 hours.
In a separate bowl, combine flour, remaining seasoning salt, and black pepper.
In a 12" x 2" deep skillet, heat vegetable oil to 350°F.
Coat chicken with flour mixture.
Fry chicken tenders in three batches for 2 minutes on each side. The tenders should reach an internal temperature of 165°F.
Serve with your favorite dipping sauce.

*Plus marination time
Honey Mustard Dipping Sauce
Mix together with a whisk:
1/4 cup honey
1/4 cup mayonnaise
1/4 cup Dijon mustard
1 tablespoon white distilled vinegar
1/4 teaspoon cayenne pepper (if desired)

Nutrition Facts
| | |
| --- | --- |
| Calories | 400 |
| Fat | 25g |
| Saturated Fat | 4.5g |
| Sodium | 560mg |
| Carbohydrate | 12g |
| Sugars | 2g |
| Protein | 33g |
Alexa, enable Sanderson Farms
Alexa, ask Sanderson Farms for the Buttermilk Chicken Tenders recipe.
Learn More