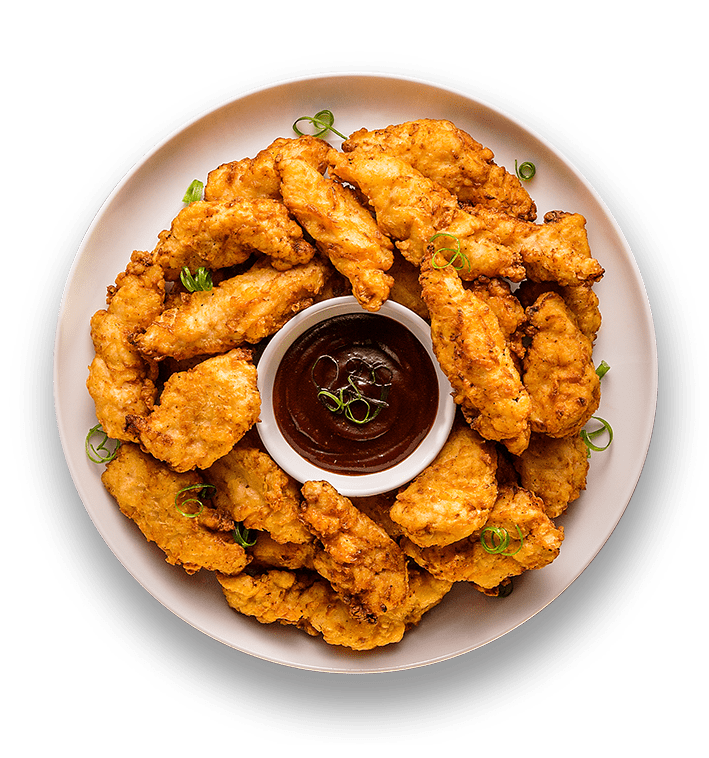 Buttermilk Chicken Tenders
Classic southern chicken tenders are always better when made at home. This recipe is a great use of everyday ingredients and is simple to make.
Ingredients
14 Sanderson Farms® Chicken Tenders, cut in half diagonally
1 cup buttermilk
1 teaspoon seasoning salt
3 cups flour
2 tablespoons seasoning salt
1 teaspoon black pepper
4 cups vegetable oil
Directions
Mix the buttermilk and 1 teaspoon seasoning salt in a bowl.
Place chicken and buttermilk in a sealable plastic bag and toss tenders to coat.
Refrigerate for at least 20 minutes or up to 24 hours.
In a separate bowl, combine flour, remaining seasoning salt, and black pepper.
In a 12" x 2" deep skillet, heat vegetable oil to 350°F.
Coat chicken with flour mixture.
Fry chicken tenders in three batches for 2 minutes on each side. The tenders should reach an internal temperature of 165°F.
Serve with your favorite dipping sauce.

*Plus marination time
TIP: Serve your chicken tenders on mini waffles and drizzle with syrup to create mini chicken and waffle sliders! Not enough time to make waffles from scratch? Frozen mini waffles work great when you're in a pinch! Pick up one box of frozen mini waffles at the grocery store to make 20 sliders. Even the pickiest of eaters will be on board.
Nutrition Facts
| | |
| --- | --- |
| Calories | 400 |
| Fat | 25g |
| Saturated Fat | 4.5g |
| Sodium | 560mg |
| Carbohydrate | 12g |
| Sugars | 2g |
| Protein | 33g |
Alexa, enable Sanderson Farms
Alexa, ask Sanderson Farms for the Buttermilk Chicken Tenders recipe.
Learn More